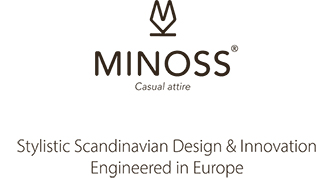 Minoss
About Minoss

Minoss, "a casual attire brand" is timeless fashion for men founded in Kullabygden in southern Sweden. Minoss focuses mainly on trousers with extra comfort.
Minoss was founded in 2021 from 30 years of experience with authentic and genuine knowledge in retail, design and production. The founder Stefan himself has high standards and knows what a customer expects from a premium product.
With a hand-picked network of Europe's best producers, the product is tailored for the brand directly. Great emphasis is placed on honesty and transparency. The product must maintain a top level of quality, a representative design and be comfortable to wear - all at an attractive price!
Sustainability

"By allowing Minoss' product to be produced entirely locally, we do our best to avoid unnecessary emissions to the environment.
We have not calculated emissions/our impact in detail, but it is quite logical: A garment includes many different parts. Fabrics, pocket bags, buttons, labels, etc.. Compared to conventional textile companies whose accessories are most often manufactured in different locations around the world before being sent and finally assembled into a garment, Minoss avoids long transports across the different continents. Everything is produced locally.
Our production should preferably take place in Europe.
* Our aspiration: raw materials and accessories are sought as close to the producer as possible.
* Buttons are made from 100% certified electricity from wind turbines. * We mainly choose recycled materials if possible.
* Paper labels etc are made from FSC certified forests.
* Our creative team monitors product specifications and influences all sustainable criteria in the development processes in the best possible way. Last but not least, high quality pays off. Our garments stay fashionable in the long term and are durable."
Stefan Wahlström
Founder
Minoss Clothing Company
Compare Products
You have no items to compare.
My Wish List
Last Added Items
You have no items in your wish list.